About Lonza
At Lonza, we enable a healthier world by supporting our healthcare customers on the path to commercialization. Our community of 15,000 skilled employees work across a global network of more than 30 sites to deliver for our customers across the pharma, biotech and nutrition markets. By combining technological insight with world-class manufacturing, scientific expertise and process excellence, we help our customers to deliver new and innovative medicines that help treat a wide range of diseases.
Capsules & Health Ingredients
Lonza's Capsules & Health Ingredients business is the trusted partner in innovative capsules, dosage form solutions and health ingredients for pharmaceutical and nutraceutical companies.
Lonza's Capsules & Health Ingredients business is the trusted partner in innovative capsules, dosage form solutions and health ingredients for pharmaceutical and nutraceutical companies. Our industry-leading portfolio has its roots in our legacy ingredients business and has grown through the acquisitions of Capsugel and InterHealth Nutraceuticals.
The unique combination of science, engineering, ingredient and formulation expertise and capsule polymer science enables our customers to optimize bioavailability, provide targeted delivery and overall excel in the performance of their pharmaceutical and nutraceutical products. Our reputation for capsule expertise and research-backed ingredients has connected more than 5,000 customers in over 100 countries, who ultimately enable hundreds of millions of patients and consumers to live a healthier life.
We continue to build on our decades-long track record of ingenuity, credibility and flexibility to deliver a high-touch experience to our customers and drive added value. We closely monitor trends around the world, and quickly innovate broadly accepted viable solutions. We understand what it is to serve customers globally with regulatory insights, dedicated customer service, and a supply chain in proximity that ensures on-time speed and responsiveness even with a complex product mix. We focus on the success of our customers not only with a portfolio of industry-leading quality products but also with a range of services that can help launch new products and support existing lines successfully.
Our pharmaceutical customers are continually motivated to speed up the pace of discovering and developing both novel and cost-effective products that will help improve people's lives. Lonza's Capsugel® capsules lead the world in unsurpassed productivity and performance through innovation and quality. Our dosage form solutions provide optimized product performance for oral and inhaled medicines to assist customers in all stages of product development, from early stage to commercialization. Our specialized capsules and equipment are designed to keep pharmaceutical R&D on track and on time with reliable ways to eliminate steps and waste while addressing key industry challenges.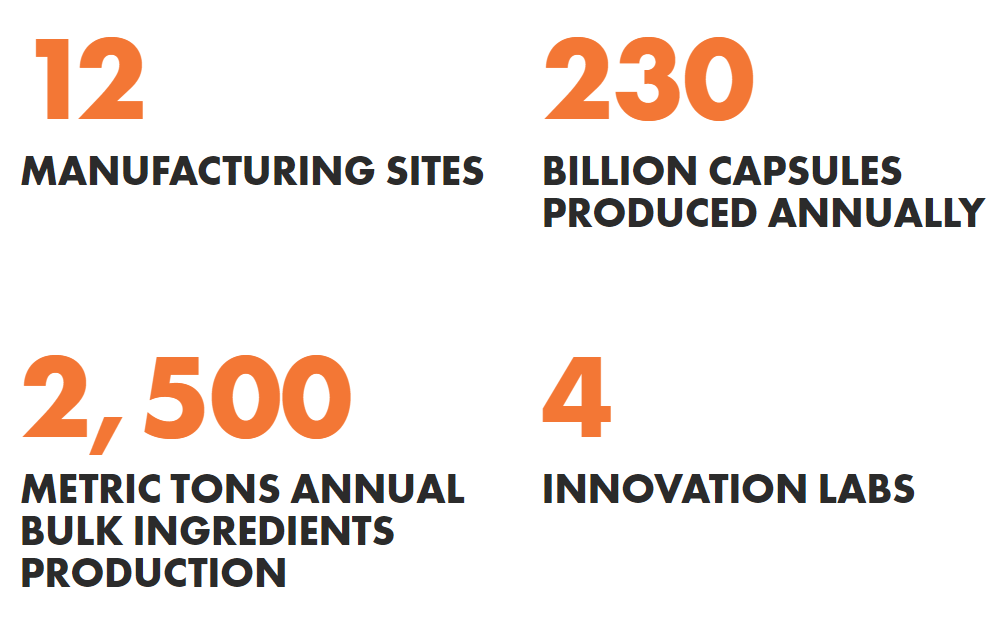 This vast global network – and the leading science and engineering behind it – enables the broadest range of capsule polymers, sizes and designs in the industry, as well as the ability to offer integrated product design and development, innovative ingredients, clinical supply and commercial manufacturing services to our customers around the world. Our diversified customer base includes companies that make branded, generic and specialty pharmaceuticals; biotech products; over-the-counter medicines; vitamins and dietary supplements.
Year of Establishment: 1986
Total Assets(USD):
Total Number of Staff:
Main Competitive Advantages: Brand Name,International Approvals/Standards,Experienced R&D Staff,Delivery Term,Production Capacity,Large Product Line,Contract Manufacturing (CRO,CMO),Buyers' Specifications Accepted,Small Orders Accepted,Reputation,Quality Service
Other Competitive Advantages: Quality & responsibility At Lonza Capsules & Health Ingredients, we are committed to being the foremost partner and leading supplier of innovative dosage forms and solutions to the healthcare industry. As such, quality management and regulatory compliance are the cornerstones of our business, and we strive for unparalleled leadership, compliance and service in all that we do. Global quality and regulatory compliance Lonza has a global network of manufacturing facilities, which are routinely inspected by regulatory authorities, customers and our own internal audit teams. We work diligently every day to meet the strictest industry standards, and have developed our own stringent quality management systems and internal and external audit programs to assure compliance with cGMP, national and international regulations. Quality management systems We have corporate policies and standards that serve as the backbone of the quality management systems and standard operating procedures that govern our operations. With a focus on continuous improvement, we proactively review our systems and engage with customers to ensure we always deliver the highest value to their businesses. Performance Our culture is defined by a steadfast commitment to continuous improvement. Utilization of Quality by Design (QbD) principles supports and advances this culture by accelerating the development process for our customers and instilling robustness in our manufacturing processes. Our ongoing commitment to Six Sigma principles helps to minimize variability, improve the quality of our processes, and lead us toward the ultimate goal of zero defects for our products. To spread this culture across the entire organization, we have an experienced and highly trained team, with numerous certified black belt leaders throughout our manufacturing and supply chain network. Service excellence With a key focus on service, we work openly to maintain the trust of our customers as part of our transparent and collaborative approach.
Patents and Copyrights: