CPhI North America 2021
Time:October 10-12, 2021
Country&Region: United States
Venue:Philadelphia, PA, USA Pennsylvania Convention Cente
Organizer:Informa Markets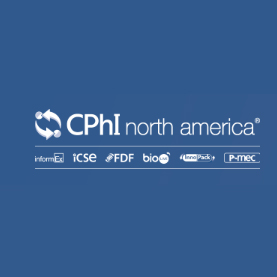 Heading Back to Philadelphia in 2020
CPhI North America will show you the connective power of the pharmaceutical industry's most established community. This is where thousands of pharma professionals join forces for a few productive days of networking, sourcing, and learning. Stay tuned for more information about our 2020 show, happening May 5 - 7, 2020 in Philadelphia, Pennsylvania!
Industry Sectors
Products & Services Found in the CPhI Zone Include:
CPhI North America the only place you'll meet all the influencers and find the latest solutions and innovations to better understand this evolving and complex market. Get everything you need to:


Meet the strict regulations for the API supply chain to ensure full traceability Stay ahead of the competition by mitigating the limitations imposed by regulatory requirements Keep up with policy-makers and payers increasing mandates on what doctors can prescribe Secure a foothold in the global active pharmaceutical ingredient market—estimated to reach $186 billion by 2020


The Global Home for Custom Chemical Sourcing
InformEx, the specialty chemical focused zone at CPhI North America, has a 30 year history as the premier global source for developing valuable scientific partnerships. The integration with CPhI North America delivers and audience of sourcing and procurement professionals from big pharma and beyond. It's a marketplace designed to foster indispensable micro-communities where people of like interest can connect, learn, inspire, and become plugged into the centers of both the high-value chemical and pharma industries.
FDF Zone at CPhI North America
Did you know manufacturing of finished dosage is expected to grow at an average CAGR of 8.7% by 2020? Furthermore, North America forms a $50 billion formulations market, equating to a 31% market share. Impressive numbers to be sure, and the FDF Finished Drug Products Zone puts you right in the middle of this booming pharma market.

As the landscape continues to evolve with new business models, convergence between drugs and devices, pressure on generics, data intelligence, alternative medicines, single-use systems, and disposables, it can be a challenge to keep up. Not to mention increasing competition, quality compliance, and regulatory scrutiny making it trickier to drive business.


P-MEC Zone at CPhI North America
All the Trends Transforming Pharma Machinery and Equipment Professionals who work in pharma machinery and equipment know that it's absolutely necessary to build trust and ensure authenticity. They want the right partners and settle for nothing less than quality, certified products. For them, it's a face-to-face industry.


InnoPack Zone at CPhI North America
Sustainable Packaging with Patient-Centric Innovations
When it comes to separating yourself in the fiercely-competitive pharma packaging space, it's all about creating sustainable, user-friendly packaging with innovative designs in a cost- effective way. And while that sounds pretty straightforward, the stakes are high, pressures are immense, and challenges are real. The InnoPack Packaging Zone gives you the platform to showcase your products and services 7,400+ attendees looking to find the solutions to mitigate potential restraints.


bioLIVE at CPhI North America
Uniting the Best in Biopharma Manufacturing and Processing!
With a 30year history of massive events around the world, powerful and respected pharma players from every aspect of the supply chain understand that CPhI is where they connect to collectively drive the industry forward