EPISODE 17 | 12 MIN | 01 June 2022
Weekly Pharma News Review (0523-0529)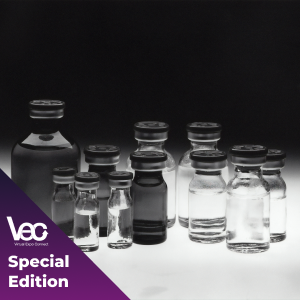 EPISODE 17 | 12 MIN | 01 June 2022

#Drug Review #R&D #Business
Weekly Pharma News Review (0523-0529)

Play
Summary
CPhI & P-MEC China officially announced the opening ceremony time of the online exhibition - the main event will be grandly unveiled on June 21. From June 22 to 30, the organizer will launch a series of multilingual themed forums to conduct in-depth discussions on R&D, cold chain transportation, environmental management, injection packaging, and intelligent and continuous manufacturing. While a steady flow of good news kept pouring into the Chinese pharmaceutical market last week. FDA approved Hengrui's ANDA for Iodixanol Injection while its SHR3680 tablets in treating prostate cancer had conducted Phase III clinical trial successfully. As the icing on the cake, TopAlliance's COVID-19 oral drug Renmindevir hit the prespecified endpoint.
Timeline
1
PART1 | 00:12
VEC: CPhI & P-MEC China officially announced the opening ceremony time - 21 June 2022
2
PART2 | 01:17
The marketing application for Nanjing Shunxin's TQ-B3139 capsule was accepted
3
PART3 | 01:45
The new indication marketing application for Novartis's Eltrombopag Olamine Tablets was accepted
4
PART4 | 02:06
The marketing application of Hengrui Pharmaceuticals' Ertugliflozin and Metformin sustained-release tablet, was accepted
5
PART5 | 02:36
Class I biological new drug LY3209590 Injection delivered by Eli Lilly got an implied license for the clinical trial
6
PART6 | 03:03
Genor Biopharma's CD20/CD3 bispecific antibody GB261 got the implied license of Phase I/II clinical trial
7
PART7 | 03:26
The clinical trial application of first-in-class RP903 filed by TopAlliance and Risen had got the implied license
8
PART8 | 03:54
InnoCare announced approval to conduct a Phase II clinical trial of tafasitamab in combination with lenalidomide in China
9
PART9 | 04:30
Qilu Pharmaceutical submitted a clinical trial application for Semaglutide Injection
10
PART10 | 05:01
Daiichi Sankyo's ADC drug DS-7300 targeting CD276 was declared for clinical trials in China
11
PART11 | 05:34
Selumetinib capsule declared by AstraZeneca was included in the Priority Review
12
PART12 | 06:02
European Commission grants conditional approval of Cilta-cel CARVYKTI a conditional marketing authorization
13
PART13 | 06:25
FDA approves dermavant's VTAMA tapinarof cream 1 for the treatment of plaque psoriasis in adults
14
PART14 | 06:46
Hengrui announced that its ANDA application for Iodixanol Injection had been approved by FDA
15
PART15 | 07:13
FDA had accepted Biohaven's NDA application for Zavegepant nasal spray for the acute treatment of migraine in adults
16
PART16 | 07:40
Laekna Therapeutics announced the dosing of the first patients in the US and China in Phase 1b/III clinical trial of afuresertib in breast cancer
17
PART17 | 08:11
Phase III clinical trial of VISEN Pharmaceuticals' lonapegsomatropin met the primary endpoint
18
PART18 | 08:39
Roche's new generation of C5 complement inhibitor crovalimab achieved positive results in Phase III clinical study
19
PART19 | 09:04
TopAlliance Biosciences announced that the Phase III registrational clinical trial of the Renmindevir reached the primary endpoint
20
PART20 | 09:23
Concert Pharmaceuticals reports positive topline results for the first CTP-543 Phase 3 clinical trial in Alopecia Areata
21
PART21 | 09:49
Hengrui Pharmaceuticals announced that a multi-center, randomized, controlled Phase III clinical research met the primary endpoint
22
PART22 | 10:23
WuXi Biologics and Vir Biotechnology terminated antibody collaboration
23
PART23 | 10:46
Henlius licenses rituximab and trastuzumab products to Abbott in Brazil

You can listen and/or download the episode on Podbean, or directly through iTunes, GooglePlay, Amazon Music and Samsung Podcasts. 
You can also subscribe our podcast by RSS feed, please copy the full URL below.

RSS Feed:
https://feed.podbean.com/PharmaSources/feed.xml
Copy Feed